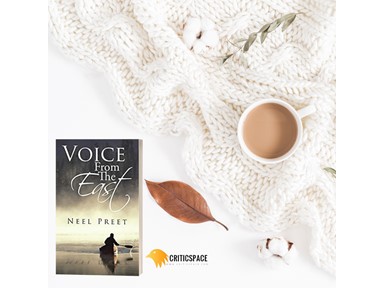 Indian Defence Files: Volume 1 (Hindi Edition) 
For an avid reader like me, who is working in the Birmingham Times, UK as a Columnist, it is interesting to see how the focus towards short stories and poetry is back! India has some of the best poets and the next generation is nurturing this passion. This would be the first Poetry Book that I review and as part of this, I have learned a lot. It was not easy for me, first because I am more of a story person and next I have minimal understanding of world of poetry. However, this young author, Neel Preet who is hardly 21, made this journey smooth.

Book Title: The Book has an interesting Title 'Voice From East'. I had many questions to Neel, one of them was why this title. The way he answered showed his maturity and his awareness. The Author has beautifully used the word 'East' to represent that the book belongs to Asia; that the literary work is by an Asian or probably an Indian, as India is referred to as Eastern Cultured Nation. Full marks for the thought itself!

Theme/Concept: Of course Poetry: There are 35 Poems in the book and each has a story associated. Every poetry has a touch of India. Moreover, as per the author, the main theme behind each is 'Self-Realisation'. Some of my Favourite Poems are Bose – The Book's title is also derived from this poem, Draught, Earthquake, Dauntless, Mother Saraswati, The City has changed, Soil of The Magadha. Every poem has its own beauty, but these are my personal favourites.
GIRL GETS KIDNAPPED Will Take You To A Journey Of Some Unexpected Twists & Turns Like Never Before! 

Readers Connect: To be honest, I was not able to connect to the poems when I read them first. I knew just the typical 'Rhyming' poems. A discussion with Neel helped me. He introduced me to Sonnets, Ballads, and Allegory. Once I was a bit comfortable with these formats, I was able to relate to the author.
Is this part important for the Review? Yes, indeed. Since not many of us are into Sonnets and Ballads. So knowing these forms would help the reader.
Every poem starts on a Strong Note, there are some which retain this flow till the end but there are a few, which wade off, which leaves the reader wishing for a different ending instead.

About the Author: A follower of Shakespeare and loves writing Sonnets more than any other form. He is open to the thought of giving rhythmic pattern a miss, as it may restrict one's ideas. Definitely a good poet, but needs to work a bit more on building a connection with the reader.

Verdict: As a book lover you 'Must Pick' this book. Like me at first you may not be able to make out anything, but will definitely have questions. These questions will help you understanding poetry. Not just that, but every Author deserves to be encouraged. Neel is a promising young author and it is just the beginning for him. Being sincerely fair, I would give Neel's poetry collection 3.5 star out of 5!
 Book Review – Closed Book By Efa Fakira 
Book: Voice From The East
Author: Neel Preet
Publisher: Partridge India (2016)
Total Pages: 62
Reviewed By: Rebecca Francis