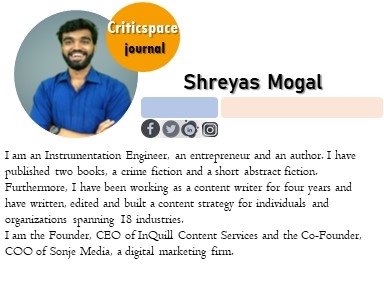 Criticspace Journals: Welcome to Criticspace Journals, author. Congratulations on the release of your book. What responses are you getting from your readers? Please share your experience with this book.
Author: So far so good. I believe these are early stages to know about the response from the masses. But a few of my friends said they picked up their long-lost habit of reading because of my novel and that really humbled me. People don't read as much as they used to. As an author, I have always wished to turn a few non-readers into avid readers.
Criticspace Journals: What encourages you to become an Author?
Author: Growing up, I spent most of my time either reading or with outdoor sports. My reading habit turned into an addiction and in my tenth standard, my mom had to forcibly cancel my library subscription because I hadn't studied at all for the approaching exams. However, I don't find many readers around me today. Most readers today prefer self-help or business books. They're incredible, indubitably. But fiction has really taken a toll. I'd often be adrift in the fictional world of novels but that hobby is seldom found today. As the famous Gandhi quote goes, 'Be the change you want to see in the world.' I had been writing poetry for a couple of years and then transitioned into short fictions. After having published a short fiction, The F-Word, I soon took up a new, bigger project and thus birthed Mancando: An Ordeal of Rhythm & Revenge.
Criticspace Journals: What are your favorite topics of writing? Please tell us something about your interest areas in literature.
Author: After this novel, I think my favorite genre in writing is crime. However, I also take great pleasure in writing poetry. I write crime, flash and short fiction, poetry, blogs, technical articles, marketing articles and web content on a very frequent basis.
Criticspace Journals: We were hoping you could tell us about some of those writers who had inspired you and whom you follow!
Author: I write crime fiction and thus, one of my role models is the legendary Agatha Christie. Sidney Sheldon is one of my idols as well. The immersiveness of their narration and the incredible plot twists are extremely thrilling and they truly make me experience the story. When it comes to taking the author on an adventurous journey, I admire the writing skills of Dan Brown. Through his novels, I have travelled a lot of places and have learned a lot.
Criticspace Journals: The title seems different and catchy; how did you decide it? Please let us know the story behind it.
Author: I am often asked the meaning of the word, Mancando. It is a musical term which means 'dying away'. Since my novel is a crime fiction with music being a pivotal factor in the plot, it went along really well.
Criticspace Journals: What are your achievements so far? Tell us something about your writing career.
Author: I've been writing for a long time, however, not many people knew about it. In December 2016, I started a blog on WordPress and very soon, leapt into freelance content writing. To speak of my little achievements, I have published a short fiction in 2018, co-authored a non-fiction in 2019 with the co-founder of LearnAur and have written content for dozens of businesses. With my writing skills, I co-founded a digital marketing company with a friend in 2018 and till date, we have handled numerous clients across the world and across several industries. I have also been a part of the editorial team of the student chapter of International Society of Automation and headed the team in 2019-20. In November 2020, I published my debut crime fiction, Mancando.
Criticspace Journals: What is your current goal in your writing career? How do you see your future in writing?
Author: In all honesty, I don't aim to sell a million copies and be the NY Times Bestselling Author. Sure, that would be fantastic, but that's not what I aim for. As I mentioned before, I hope more people pick up the habit of reading. To paraphrase George R. R. Martin, people would be able to live a thousand lives within one. One of my goals is to turn a few hundreds or thousands of people into avid readers.
Criticspace Journals: Are there any other books being worked by you? Please let us know about your future projects.
Author: I have published The F-Word, a short fiction which revolved around mental health, homosexuality, oppression and the deteriorating significance of art. Right now, I am working on a project along with another author. It's a unique idea, but we're still in the early stages to talk more about it.
Criticspace Journals: How you see Indian writing in the 21st century? What changes do you see in the modern way of writing? Do you feel it has been changed by the time?
Author: Writing has indubitably changed over the course of the last few decades. And this change isn't curbed simply to the Indian literary scene. Across the world, if you consider the most famous books of all times, you would notice that the change is quite evident. Consider Harper Lee's writing and Dan Brown's writing style. The pace is incredibly different and yet, they're both amazing authors. Similarly, you can see the difference in J. R. R. Tolkien's The Lord of the Rings and J. K. Rowling's Harry Potter and feel the polarities. The writing style today has picked up the pace and focuses more on constant happenings and a thrill for the readers. Indian writing, too, is witnessing some fabulous change over the years. Amish Tripathi is proving to be leading the curve of this change with an unprecedented style of writing.
Criticspace Journals: How easy/ difficult it was for you to publish your book? What message would you like to give to budding authors?

Author:
With self-publishing platforms on a rise, it has become quite simple for us authors to publish our books. However, saturating the traditional publishing platforms is becoming increasingly difficult for newer authors. Ultimately, it all comes down to how you're present and market your book. You can't write a masterpiece and expect it to reach the masses organically, no. You have to reach out to your audience and work on marketing and selling your book yourself. The message I would like to give to the budding authors is to have faith. If you feel your first draft is a piece of trash that is not a reason of concern. First drafts are supposed to be abysmal. The key here is to write, rewrite, read, rewrite. Don't try to achieve the perfect narration with one stroke of your pen, because that's not happening. Keep writing and keep rewriting. That's the most important thing. Don't succumb to the pessimist in you. And of course, be resourceful. Reach out to your friends who are readers and ask them what they think of your story. Get some brutal opinions and then fix your plot accordingly. Reach out to an editor, ensure your grammar is as flawless as your plot. Persistence is the key. Have faith.
AUTHOR NAME: SHREYAS MOGAL
BOOK TITLE: MANCANDO
FEATURED BY: CRITICSPACE JOURNALS
PUBLISHED BY: EVINCEPUB PUBLISHIMNG