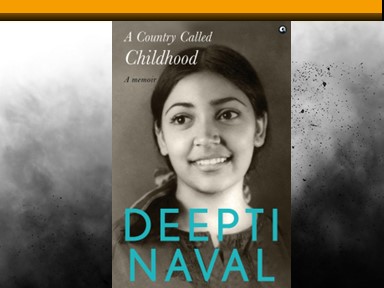 Actor Deepti Naval unveiled her memoir, A Country Called Childhood in the Capital. Twenty years in the making, her memoir has taken shape in the form of evocative vignettes peppered with details about her childhood, her cinematic calling and more. The book was launched by actor Sharmila Tagore who shared her insights. "She delves into her childhood with admirable honesty. I felt many emotions going through her book, the uppermost emotion was of joy…pure, unadulterated joy," she said. The veteran actor features prominently in the memoir as shared by Naval.
The painting on the back cover is key. A fluted dome of the Khairuddin Masjid looms large, with the minarets almost within touching distance of Chandrawali house in Amritsar—where actor Deepti Naval spent her childhood. Painted by Himadri Naval, her mother, the house, which has been broken down, is at the heart of Naval's book, A Country called Childhood.
Naval's mother passed away in 2017 and the book is a love letter to her. If Naval's mother painted, her father loved art. Evenly matched, it is this relationship that Naval writes about achingly—her parents. They were her whole world—and the book provides you a glimpse of the sensitive child that Naval was. "When my parents split it was the most traumatic and difficult thing in my life," she said. They separated when they were in their seventies, after they moved to the US. "I idolised them when I was a child. I used to think this is what companionship would be like, this is what a marriage should be like. They sit and then they discuss, and they talk; mama was forever so devoted to my father," said Naval.
Unlike most celebrity memoirs, Naval has chosen to focus on her childhood—a magical time where she watched clouds drifting into the gully, not knowing the difference between real and imaginary. Vividly told, the book chronicles Naval's formative years in Amritsar, her neighbourhood, her sister, her brother, her father and her family. "When I saw my mother empathise with people, how her heart went out, I, unknowingly, picked up these things from her. So, it helped me in my acting career. Also, [when] I step into somebody's shoes, I am able to enact from their point of view. These things were very important [to me]. I am formed like that because of my childhood," said Naval.
It is this treasure trove of memory—minutely observed and written in cinematic detail—that Naval conjures up in her book—her journey through the streets of Amritsar, her first experience of watching a film (she hated it and never wanted to go back), of acting at the command of her sister, of her first kiss (with a friend) after which she turned as white as a sheet. The book has no hint of romance, though there is plenty of love.
Naval also talks about her friend, Neeta Devichand, who was admitted into a mental asylum in Punjab after she tried to take her life. "The chapter is very important to me because it told me about the aberrations that we confront in life," said Naval, "Why does she [her friend] inflict pain on herself? We were just baffled, yet [we] wanted to stand by her, wanted to be there for her. We gave her moral support. We were very protective about her. [Later] I learnt abnormal psychology in college, and so did the other girls. That is who I am. I am formed like that because of my childhood."
About The Author – Deepti Naval is an Indian actor, director, writer, painter, and photographer. A multifaceted personality, Deepti has carved a distinct niche for herself in the Indian film industry, winning critical acclaim for her 'sensitive and close to life' portrayals that emphasized the changing role of women in India.
Deepti made her debut in the year 1980 with the path-breaking film Ek Baar Phir, and has since appeared in more than ninety films, including Chashme Buddoor, Katha, Saath Saath, Kamla, Ankahi, Main Zinda Hoon, and Mirch Masala. She has received the Best Actor award in several national and international film festivals for her roles in Leela, Firaaq, Memories in March, Listen Amaya, NH10, The Boy with the Topknot, and others. She also won the Best Screenplay award at the New York Indian Film Festival for her directorial film, Do Paise Ki Dhoop, Chaar Aane Ki Baarish, in 2010.
As a writer, she has three books to her credit—her first collection of poems, Lamha Lamha, published in 1981, Black Wind and Other Poems in 2004, and The Mad Tibetan: Stories from Then and Now in 2011. Her poems are reflective, sometimes autobiographical, and 'constitute a direct and honest female voice'.
A graduate of Hunter College, City University of New York, Deepti acquired her bachelor's degree in fine arts studying painting as her major subject along with psychology, astronomy, and American theatre. As a painter, her knife work with oil on canvas is distinctly expressionistic.
Tagged –#Publishing Book Companies, #Academic editing companies, #Famous editors of books, #Affordable book editors #Good Book Publishing Companies, #Book editors near me, #Freelance book editors near me #Publishing Companies, #Research paper editing services in India, #Writing Tips, #Writing book #Best Publishing Book Companies, #Thesis editing services in India #Best Book Publishing Companies For New Authors, #Copy editing services in India, #Bestsellter List #Best Self Publishing Book Companies, #Language editing PhD thesis, #English editing services India #Book Publishing, #best book editors in india, #Thesis proofreading rates, #Ebook, #Ebooks, #Book Marketing #Book Publishing Companies In India, #Thesis formatting services in India, #Cover design #Book Publishing Companies In Chennai, #PhD thesis editing cost in India, #How to write a book in India #List Of Book Publishing Companies, #PhD thesis editing services, #Professional book editors near me #Book Publishing Companies Near Me, #Article editing services in India #Famous Book Publishing Companies, #Hindi novel editor, #What is trending in self publishing #Best fiction editors in India, #Book editing charges in india #How to promote the book #How to get the bestseller tag on my book #What is the best way to promote the book#11 Powerful Book Promotion Ideas for Self-Published Authors #How to promote a book for free #How to promote a book on Instagram #Penguin Random House #Rupa Publications #Aleph Book Company #Srishti Publishers #HarperCollins #Sage Journals #The Write Order