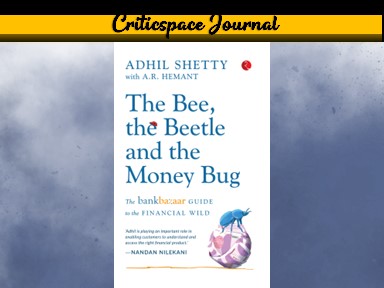 ---
How should you save? Where should you invest? is your insurance enough? how do you start on the journey of fulfilling your aspirations?
The financial world is a jungle of sorts. Dangers lurk everywhere. So how can you foray into this jungle to feast on its bounties but stay clear of the traps?

Adhil Shetty, the co-founder and chief executive of BankBazaar.com, takes you on a journey through the financial wild, accompanied by the bee, the beetle and the 'money' bug. But what do these creatures have to do with finance? A lot! Adhil and his 'friends' employ case studies and data to nudge you towards common sense money management.
Adhil is one of India's most widely quoted and trusted experts in personal finance. With his first book, he passes on his wealth of knowledge to help every Indian take control of how they save, insure, invest and borrow.

He demystifies jargon-heavy financial literature and confusing sales pitches. He pulls you out of your decision fatigue. He tells you how to enjoy your money responsibly. With this book, he will help you structure your finances, avoid bad decisions and cement your financial legacy.
About The Author: Adhil Shetty is chief executive officer and co-founder of BankBazaar.com. With 50 million customers, BankBazaar is India's largest fintech co-branded credit card issuer and free credit score platform. Adhil has championed digitized finance and paperless lending, which help Indians in the farthest reaches of the country access credit in a contactless manner.

Adhil is one of the most widely read columnists in India. His takes on personal finance are carried regularly in well-known publications, such as Mint, The Economic Times, Business Standard, Financial Express and Moneycontrol. He is also co-chair of the FICCI Fintech Committee A Chennai native, Adhil graduated with a masters from Columbia University, New York. He returned to India to launch BankBazaar with Rati Shetty and Arjun Shetty. He lives in Mumbai with his wife and daughter. His passions outside digital finance are cooking and watching foreign films. You can find him on LinkedIn and Twitter (@adhilshetty).

A.R. Hemant is head of communications at BankBazaar. A journalist by training, Hemant has worked with and written for Hindustan Times, NDTV, India Today and Yahoo! India before finding his calling in consumer finance. Hemant loves crunching numbers, something he has carried from his days as a cricket reporter into his current job, where he tries to make sense of mortgage rates and deposit returns.