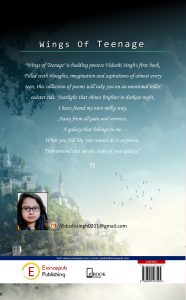 Name: Vidushi Singh
Birth Place: Ballia
Interests: poetry, basketball, badminton
Hobbies: singing, dancing, reading
Biographical Info
I Vidushi Singh, am a student of class 12th in Ballia District of Uttar Pradesh. My parents say that I was interested in story telling and poetry since the very beginning of my childhood, though they also comment that my stories and poems were endless and used to go on for hours and hours if not interrupted. Growing up, since the time I remember about my existence, I have always loved literature. In 2018 , when I was still new in class 10th, I got inspired by a member of my favourite music group to collect my everyday thoughts in the form of poetry and that's how the journey of this book began. Whenever I had time , I used to sit with pen and paper and scribble some lines here and there and then later in the leisure time , I used to do some changes to make it look like a complete work . In the first trimester of 2020, as Covid-19 forced everyone to stay indoors, I decided to take this opportunity and present my poetries in front of the world .
Achievements  So far: The biggest achievement of mine till date has been publishing my first book. Apart from this , I have participated in English Olympiads and got merit certificates in the same and represented my school in zonal level creative writing competition held in Varanasi. At school level, I try to take part in most of the extra co-curricular activities , as they help us to discover our hidden talents . Hopefully in the future I'll have bigger achievements but for now ,the list is really short but even so I am satisfied with what I've achieved till now and I'll work hard to achieve more in the near tomorrow.
Favorite Topics of Writing: family, friends and future
What describes you the best: Poetry.
Tell us about your writing career
My writing career is not huge neither big, when I first began to write poetry I never thought I'll ever end up publishing them , but over the past 7-8 months, my friends and family members urged me to try publishing my poems so that's how my writing career offically began . But before this , I used to write articles , poetries and also stories which got published in my school's magazines over the years. A few years ago I had started to work on a novel which never reached its ending. I used to think that if I'll ever publish my work then it'll probably be a novel and not a poetry book , but in life as they say, "Expect the unexpected". I am thankful for whatever happened due to which I  was able to began a career in writing .
Tell us something about your book.
"Wings of Teenage" is a collection of 41 poems written over the past 2 years, it is a collection of poetries based on various themes combined together under a single cover. A bird sitting on a tree is never afraid of the branch breaking, because her trust is not on the branch but on its own wings, this explains the whole theme of my book.  It was based on the random thoughts, and questions I had about life while going through a couple of years as a teenager. Though my view of the world is slowly changing from what it was back when I wrote the first poem of this book, but I think most people can relate to the poems that were included in it .
What encourages you to become an Author?
My source of inspiration for writing poetry are my family members and friends , they always support my new hobbies and similarly they supported my poetry writing. Another honourable mention here, I'd like to include a music group I truly adore, they have always encouraged me to follow my passion and do what I want to do without thinking about anything else. The driving force behind my achievements have always been and will always be my family and my friends.
What is your current goal in writing career?
As I am a student of class 12th ,my current focus is rather more on studies and less on the writing career ,but I am still writing new poetries and also working on a novel . So hopefully in the near future I'll be able to put out a few more poetry books or a novel. I want my thoughts to reach the world , and to know about what people feel about my writing, how they felt while going through the pages of my book . Seeing the reaction of the readers who read my first book truly made me happy and inspired to keep creating new ones!
The titles seems different and catchy, how you decided it?
Thanks for saying that it is different and catchy, to be honest I believe I struggled the most in searching for an apt title for my book. It took me a lot of research and alot of time and people to come up with the title "Wings of Teenage". I had shortlisted 5 names for the title of the book first , and after asking for opinions from the people around me and my own conscience I decided to go with the current title
Are you writing other books as well, let us know about the same.
Not really, though I'm working on a novel but I've stopped the work for a while to focus on my studies.