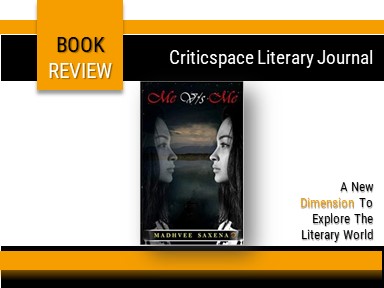 Perhaps among all human emotions, the strongest and most addictive is love, whether from parents, siblings, the loved ones, or the significant other. As an emotion, love binds and connects human beings, and the foundation of perhaps every relationship is based on this powerful emotion. Love is a powerful word, as quickly one can say, and everyone tends to use it in their lives with equal ease. Whereas, "Love can make or shape one, Love can also destroy one."  In her book, "Me Vs. Me," author Zahira Kohli has tried to explain her rollercoaster ride in relationships that she has gone through in her life. The readers get to go through numerous encounters in the author's life that many readers would be able to relate to. They may not be the same but quite similar. The fact that the work is by a woman does not restrict the book for reading just for women but it remains open to reading for men too.
 Kohli, has written this book very beautifully, in a descriptive manner, and she expresses her thoughts and emotions fearlessly. The readers get to experience the depth in her words as the things she mentions may have happened to them at some point in time in their lives. "Me Vs. Me" is essential reading for all as the author may have shared her story on a surface level, but on examining in-depth, the readers understand that there are important life lessons the author has to share. True wisdom lies in learning from the experiences of others and avoiding doing the same mistakes. That is the secondary purpose of the book.
 "Me Vs. Me" talks about love and emotions and a journey of a young village girl moving to a metropolitan advanced city & society, adapting to the new lifestyle, culture, how she shaped herself with time, & how the time, people & life shaped her. Coming from a conservative family, It was not that easy, as she shares with the readers. These events from the author's life could be relatable for many as they may have gone through similar situations or may have plans to move on the same road that the author took.
 The story involves various characters and their roles in Kohli's life and how they affected her life and impacted her state of mind. They molded her personality into the person, she became. Not just this, but her book also features her work-life and from being happy and loving her life to getting depressed and the beautiful desires of being someone special in life, turning to lose hope and faith in love in every way. The story revolves around Kohli & her friends and not to mention the ones, entered in her life from time to time. Kohli's close friend Saarya is the one who is mentioned on many occasions and events; of course, after all, she is her most intimate and best pal. Through her journey, the author shows the different shades of life and clears the illusion that life is not only about the good things. The tough times go hand in hand.
 The theme may sound cliche to some, but "Me Vs. Me" features the modern era's depiction, and there is a faithful attempt to portray the realities of her life. The add on is that with her natural expressions and details, the author makes the book much more interesting for readers who enjoy descriptive narration and plots describing realities of life in an unchanged form. For a present day reader, work that portrays reality in its face is the one that will win favors. In light of this, suggesting the book to be read by all kinds of fiction, readers would not be wrong in any sense. All readers, old or young, are likely to find this a work that will keep them glued and also ensure that they do get a few suitable lessons from the author's life.
 The story in "Me Vs. Me" helps the readers understand human behaviour, as a victim, and acknowledging the wolves out there in this world. Through her narrative, the author attempts to show the evil side of the world to the readers, but despite failures and fall downs, the author does not convey the message to lose one's hope in love or stop searching the significant one out there. But in fact, the story gives a clear message to the readers that there will be numerous encounters in life that they will come across at many stages. Whether personal or professional, life will always present choices to them. But whom to trust, or to choose is in their hands, "Always watch out! that is all". Fate cannot be blamed for anything, and somewhere, everyone is responsible for what happens to them.
Book Title: Me vs Me
Author Name: Madhvee Saxena
Reviewed By: Akhila Saroha
Publisher: Evincepub Publisher
Order On: Amazon