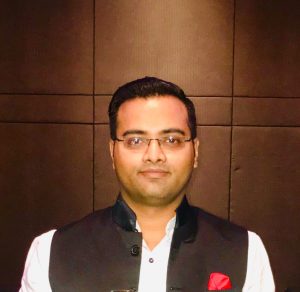 Name: Dr Krushit Patel
Birth Place: Surat
Interest: Voluntary work involving community, Active participation in healthcare and medical services related activities , articles writing, building social capital and networking.
Hobbies: Reading, writing, travelling, sports, Gym enthusiast, music.
Biographical info: I did my schooling from Surat and MBBS from SMIMER medical college Surat. I have cleared UPSC examination for medical services in 2014 in first attempt and currently working in Delhi government hospital as Senior Medical Officer . I am also posted as Doctor on sp. duty for Lieutenant Governor House Delhi and Delhi Legislative Assembly .
Achievements: Received numerous awards from IMA, DMA. Few of them are,
• Received a letter of appreciation from Hon'ble Minister of environment (Govt. Of NCT of Delhi) in 2020.
• Received "Scroll of Honour" by IMA- EDB in 2016 & 2019.
• Awarded National IMA award "IMA TIGER" in 2018.
• Awarded Delhi Medical Association's Distinguished services Award in 2017.
• Awarded "Vishist Chikitsa Ratna" by Delhi Medical Association in 2016,
• Also Felicitated by Hon'ble Union Health Minister sh J.P.Nadda ji in 2014.
• Certificate of excellence from Bihar Medical forum in 2014.
• Letter of Appreciation from Director Health Services, Kashmir in 2014.
• President's appreciation certificate by Delhi Medical Association 2014.
• Young Jewel award by IMA-EDB in 2013 & 2014.
• I was invited as panelist and appeared on Various National Hindi and English news channel like NewsX & इं7डया News.
• I've published numerous articles on health & pollution in Newspapers.
• Being Head of Operations I've organised famous talk show TEDx in New Delhi.
• Invited as Chairperson in Delhi state level conference "ACADEMIA 2018" .
• Elected Member of Central Council National IMA(HQ) for 2019- 2020.
• Past Executive member of IMA-EDB .
• Published a book "AAGHAZ" for final year MBBS Exam.
Favourite Topics of writing: Articles on health, effect of pollution on humans, academic topics involving subjects of medicine.
Criticspace:  What describes you the best?
Krushit: Academic Author & content writer.
Criticspace: Tell us about your writing career(80-100 words minimum)
Krushit: Started writing on e-news portal about couple of years back. Now writing articles on health in newspapers as a columnist . Planning to start a blog to help young medicos in preparation for MBBS exam and PG entrance exam.

Criticspace: Tell us something about your book.
Krushit: AAGHAZ is my first ever book publication. This book is having about 600 pages with volume 1&2 . It contains short and quick notes for final year MBBS university exam. It covers concise notes of theory and practical exam of medicine, surgery, obstetrics & Gynaecology, Pediatrics subjects. A very helpful book for easy learning & quick revision for final year MBBS exam.

Criticspace: What encourages you to become an Author?
Krushit: Got my inspiration from great authors and articles of The Hindu newspaper .
Criticspace: What is your current goal in writing career?
Krushit: Writing books for medical students and NEET PG aspirants to achieve their goal in medicine..
Criticspace: The titles seems different and catchy, how you decided it?
Krushit: AAGHAZ means to start and starting my Career in the field of book writing with this book . So we chose to keep this name.  Also our team of authors have entered in to the wide field of medicine with this book.

Criticspace: Are you writing other books as well, let us know about the same.
Krushit: Working on a book for NEET PG aspirants .