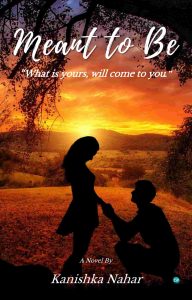 If you don't believe in love or afraid of getting heartbreak then read this novel, "Meant to be" a book by Kanishka Nahar.
Kanishka Nahar is a student. While studying she is interested in writing and reading novels. She says that 'writing is a way to express your thoughts and emotions.' 
'MEANT TO BE' is a fictional love storybook. You can recognize it by its cover and title name. This is the story of a girl named Kaamya. She was an ambitious girl and always thought about her future goals. She had a writing page where she wrote about her beliefs, about self-love and feminism. Her perception was that she would never fell in love because she scared of heartbreak but her fear vanished when she met a guy named Kabir.
In this story, you get to know the true meaning of friendship and relationship. A most important part of this story is that both Kaamya and Kabir is a goal-oriented person. They never put their career in their relationship.
This story is fully based on love and friendship. Many thrilling terms are there in the story by Kaamya's friends. The interesting term in the story is that when Kaamya and Kabir decided to meet each other's family. They both were so confused before the meeting but after meeting, they all would happy. The family of Kabir and Kaamaya liked the choices of their child and at the end of the story, they agreed for their marriage.
The funniest part of the story is when Kabir went to meet Kaamya's parents. He took advice from Jenny (Kaamya's best). She advised him to wear ripped jeans with a real gangster like a shirt. Then after wearing it he went to meet up with Kaamya's parents then he started speaking so weirdly because jenny told him that Kaamya's parents didn't like soft-spoken men. After meeting Kaamya's parents didn't like Kabir but after meeting when Kaamya asked him about his look then Kabir told her everything and how jenny make him pranked. After listening to this Kaamya and Kabir laughed hysterically.
The story took a twist when Kaamya went to Yale, her dream school. The story of Kaamya and Kabir stopped there and Abhi had entered in Kaamya's life as her best friend but Abhi like her so much.
Will Abhi be still in the picture? Or there is something more twists Kaamya's destiny is about to take? Find out the surprising climax of "Meant to Be" after reading it. 
I recommend this story to those who don't believe in love or who have a fear of losing her love. This story is an inspiration to all true lovers who meet up by destiny. Through this story, they get an idea that how to propose your loved one whether he is a soul mate or your family members.
Book Title: Meant To Be – What is yours, will come to you!
Author: Kanishka Nahar
Publisher: Cyscoprime Publishers, 2020
Reviewed By: Shivangi Yadav at Criticspace